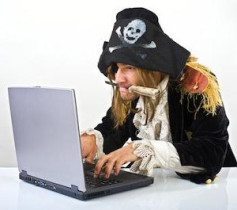 Kia ora and welcome to the longest Bleat post ever. Actually that might not be true but it is over 3000w long. Woah! And that's because it's Ed's glossary of online terminology. For you, for free. And I'm delivering this to all the faithful Bleat followers who have sent in their feedback over the last month or so. Ed loves you very much.
Sure, you could've just Googled any of the terms below but you'd be hard-pressed to find them all in one place. I couldn't. So I brought together my own thinking and stole from several other websites to arrive at this glossary. And I'm not even going to reference anything because let's face it, nobody owns the rights to any of these terms, or their definitions … or do they? Do they? Please advise.
Above the fold
The portion of a web page viewable in a browser without scrolling. Content above the fold performs better than content below the fold.
AdWords
By paying for specific words and phrases your site will be placed at the top of the page when your specified keywords are searched for, appearing in a tinted yellow box, ahead of other sites with the same KWP but who haven't paid for a Google Adword campaign.
Banner Ad
A still image or moving graphic file centered across the top of a website. Display ads are similar but can appear anywhere on a website. A tile ad is a smaller counterpart, typically grouped with other tile ads along a side margin.
Below the fold
The portion of a web page that is viewable in a browser only after scrolling; this includes the entire page excluding the portion that is above the fold. Ads below the fold perform worse than those above the fold and thus can be purchased at a discount relative to ads above the fold.
Blog
An online diary of information or opinion with entries made on a regular basis. Commonly referred to as a 'bleat'.
Bounce Rate
The percentage of visitors to a website who only view one page before leaving. This is a key metric to track and a good indication of a landing or entrance pages' ability to monetise traffic to that page. This Bounce Rate is calculated by the number of visits viewing one page divided by the total visitors entering that page.
Call to Action
A call to action is copy used in advertising to encourage a person to complete an action as defined by the advertiser.
Click-down or Click-within Ads
An ad that allows the user to stay on the same web page, while viewing requested advertising content. Click-downs display another file on the user's screen, normally below or above the initial ad. Click-withins allow the user to drill down for more information within the ad.
Clickthrough
The action of clicking an ad element and causing a redirect to another web page.
Clickthrough Rate (CTR)
The rate at which people click on a link such as a search engine listing or a banner ad. Studies show that clickthrough rates are six times higher for search engine listings than banner ads.
Content
Content is the information contained in text, visual images, audio sounds, and video formats, providing value to users. In SEM (Search Engine Marketing), unique, relevant content is one of the most important variables in attracting repeat visitors, as are inbound links that positively impact search engine page rank.
Content Integration
Advertising woven into editorial content or placed in a special context on the page, typically appearing on portals and large destination sites. Also known as web advertorial or sponsored content.
Conversion
The act of converting a web site visitor into a customer or at least taking that visitor a step closer to customer acquisition – such as convincing them to sign up for your e-mail newsletter.
Conversion Rate
The rate at which visitors get converted to customers or are moved a step closer to customer acquisition.
eCommerce
Business conducted over the internet, usually involving the online promotion and sale of products and services.
External Links
An External Link is a hypertext link that points to another page outside the website that links appears in. External links can be used as a form of navigation for people, directing them to pages outside the website to find out further info.
Forums
A virtual community also known as a discussion forum. Users can post messages in different forums, either to the group at large or to certain users.
Fresh
The term that Google uses to refer to frequently changing home pages. When Google ascertains that a given home page is changing frequently, it will revisit and reindex this page daily.
Geo-Targeting
Advertising that is distributed based on geographic location. Online advertising allows for targeting of countries, states, cities and suburbs (in some markets).
Google Analytics
Google Analytics is a web analytics tool offering detailed visitor statistics. The tool can be used to track site activities such as: visits, page views, pages per visit, bounce rates, and average time on site. But it can also be used to specifically track Adsense traffic therefore helping webmasters to optimise Adwords ads based on where visitors come from, time on site, click path, and geographic location.
Google Traffic Estimator
Google Traffic Estimator is a tool that indicates the number of clicks to expect on Google Adwords ads for particular keywords. The tool can be used to indicate search volume, average cost per click, estimated ad positions, estimated clicks per day and estimated cost per day.
Google Trends
Google Trends allows you to see how Google search volumes for a particular keyword have changed over a period of time and is presented in a line graph. The horizontal axis represents time and the vertical axis shows how often a term is searched for. Data can be broken down further by region, city and language.
Google XML Sitemap
Google Sitemaps are XML files that list the URLs available on a site. The aim is to help site owners notify search engines about the URLs on a website that are available for indexing. Webmasters can include information about each URL, such as when it was last updated and its importance in the context of the site.
Googlebot
Googlebot is a search bot used by Google. It collects documents from the web to build a searchable index for the Google search engine. If a webmaster wishes to restrict the information on their site available to a Googlebot, or other well-behaved spider, they can do so by with the appropriate directives in a robots.txt file.
Hacker
An individual capable of solving complex non-intuitive problems in a seemingly intuitive manner. The processes and techniques used are not necessarily methodical to the observer, but yet achieve results significantly and consistently faster than known experience would predict. A hacker is not defined in terms of intention or purpose, but rather by the talented single-mindedness of method. A hacker is not a hack.
Hits
A download of a file from a web server – hits do not correlate with web page visits. Every graphic on a web page counts as a hit. Thus, a single access of a web page with 20 unique graphics on it register as 21 hits – 20 for the graphics and 1 for the HTML page.
H1s and H2s
H1s are the main page headings and H2s the sub-headings. H1s and H2s are two of the main ways (after page titles) to write in keywords on website pages. Note however, a heading still needs to be a relevant heading, not just a list of juicy keywords.
Impressions (or Pageviews)
The number of times your search ad is served to users by search engines.
Inbound Links (IBL)
Links that point to your site from sites other than your own. Inbound links are an important asset that will improve your site's PageRank (PR).
Index
A search engine's database in which it stores textual content from every web page that its spider visits.
Internal Links
An Internal Link is a hypertext link that points to another page within the same website. Internal links can be used as a form of navigation for people, directing them to pages within the website. Links assist with creating good information architecture within the site.
Key Performance Indicators (KPIs)
KPIs help organisations achieve organisational goals through the definition and measurement of progress. The key indicators are agreed upon by an organisation and are indicators which can be measured that will reflect success factors. The KPIs selected must reflect the organisation's goals, they must be key to its success, and they must be measurable. Key performance indicators usually are long-term considerations for an organisation.
Keyword Phrase (KWP)
Sets of up to four words that a search engine user might use to find relevant web page(s). If a keyword doesn't appear anywhere in the text or programming of your web page, it's highly unlikely your page will appear in the search results (unless you're paying for an Adword campaign).
Keyword Popularity
The number of occurrences of searches done by Internet users of a given keyword during a period of time.
Keyword Prominence
The location of a given keyword in the HTML source code of a web page. The higher up in the page a particular word is, the more prominent it is and thus the more weight that word is assigned by the search engine when that word matches a keyword search done by a search engine user. Consequently, it's best to have your first paragraph be chocker full of important keywords rather than superfluous marketing speak. This concept also applies to the location of important keywords within individual HTML tags, such as heading tags, title tags, or hyperlink text. So get in the habit of starting off your title tags with a good keyword rather than "Welcome to".
Keyword Research
Determining the words and phrases that people use to find something, then compiling them into a list for use on web pages.
Landing Page
The landing page is a web page where people go to once they click on an online advertisement or natural search listing. Landing pages are designed to be highly relevant to the advertisement or search listing and encourage users to complete a 'call to action'. The landing page is also known as the 'click through URL' or 'destination URL".  Example of landing pages are newsletter sign up forms, download demonstration trial software, and purchasing of a product or service.
Link Building (Reciprocal Linking)
Requesting links from webmasters of other sites for the purpose of increasing your 'Link Popularity' and / or 'PageRank'. Considerations for link building can include directory submissions and press release syndication.
Link Popularity
When other web sites link to your site, your site will rank better in certain search engines. The more web pages that link to you, the better your link popularity.
Links
Text or graphics that, when clicked on, take the Internet user to another web page location. Links are expressed as URLs.
Metadata
Metadata refers to the information that helps search engines recognise data on web pages, which in turn, helps them get sorted and cataloged correctly. Commonly referred to as data about data, metadata is hidden inside of websites so that search engines can access the information.
Meta Description
A meta tag hidden in the HTML that describes the page's content. Should be relatively short around 20-25 words. The meta description provides an opportunity to influence how your web page is described in the search results, but it will not improve your search rankings.
Meta Keywords
A meta tag hidden in the HTML that lists keywords relevant to the page's content. However, word has it that Google doesn't use these keywords to index anymore.
Negative Keyword
A term referenced by Google AdWords and is a form of keyword matching. This means that an advertiser can specify search terms that they do not want their ad to be associated with. For example, if you add the negative keyword '-nike' to the keyword 'running shoes', the ad will not be displayed if a person searches upon the term 'nike running shoes'. Negative keyword matching ensures that only qualified traffic is clicking upon advertising.
Organic Search
The process of generating search engine results based on their perceived relevance to search terms or a keyword entered by a search engine user, ie. Google.
Outbound Links
Links that direct 'off-site' to another website.
Off-Page SEO
Refers to optimisation strategies outside of your website's design such as link building with authoritative sites with relevant content.
On-Page SEO
Refers to website implementation strategies to optimise the position of a website in search results of particular words or phases.
PageRank (PR)
The higher the PageRank of the page that's linking to you, the more your site's PageRank will benefit. The better your PageRank, the better you'll do in Google, all else being equal.
Paid Inclusion (Adwords)
Paying a search engine to have your web pages included in that search engine's index.
Paid Placement (Adwords)
Paying a search engine to have your listing show up prominently. These listings are usually denoted as 'sponsored listings'.
Pay-for-Performance (or Pay-per-Click – PPC)
A pay-for-performance (or click) pricing model where advertising (such as banners or paid search engine listings) is priced based on number of clickthroughs rather than impressions or other criteria.
Pay-per-Post (PPP)
A website designed to help content creators such as bloggers find advertisers willing to sponsor specific content.
Pop-Up
A web page that displays within a new, typically smaller, web browser window, rather than the currently active browser window. Search engine spiders don't typically follow pop-up (or pop-under) links. Pop-ups are often times used for promotions, ads, email newsletter invitations, and survey invitations.
Portal
A site that functions as a point of access to information on the web. Portals are either authoritative hubs for a given subject or popular content driven sites.
Query
A keyword, or phrase inquiry entered into a search engine or database. A person types in words and the search engine database returns results that matches the user's query.
Reach
Sometimes expressed as the percentage of the universe of a target audience, however it is measured by the total number of unique users who will see the ad over a specific period of time.
Referral Fees
Fees paid in exchange for delivering a qualified sales lead or purchase inquiry. For example, an affiliate drives traffic to other companies' sites, typically in exchange for a percentage of sales or a flat referral fee.
Referrer
Another web page, containing a link to your web page, that delivers that visitor to your web page.
Relevance
The likelihood that a given web page will be of interest or useful to a search engine user for a keyword search.
ROI – Return on Investment
The benefit gained in return for the cost of investing budget into advertising or project.
Run of Site (ROS)
The scheduling of ads across an entire site, often at a lower cost than the purchase of specific pages or sub-sections of the site. A run-of-site ad campaign is rotated on all general, non-featured ad spaces on a site.
Search Engine Marketing (SEM)
Strategies and tactics undertaken to increase the amount and quality of leads generated by the search engines.
Search Engine Optimisation (SEO)
Strategies and tactics undertaken to influence the rankings of web pages in the search engines. SEO typically involves three steps including technical optimisation, content optimisation, and link buidling.
Search Engine Results Page (SERP)
A page of search results delivered by a search engine.
Search Term
A keyword, or KWP used to conduct a search engine query.
Social Media Optimisation (SMO)
The process of contributing and sharing content with your social media connects to gain online visibility of a company, brand, event, product and/or service. SMO includes contributing and perpetuating a particular online body of knowledge with targeted, relevant content.
Splash Page
Splash pages are an annoyance to Internet users as they introduce an extra hoop that the user has to jump through before they get to any meaningful content. Splash pages are also damaging to search engine rankings. Consider that your home page is typically considered by search engines as the most important page of your site. If your home page is a content-less splash page, then it's a wasted opportunity.
Streaming Media
Audio-visual content that is played as it is being downloaded. Thus, an Internet user could begin watching a video clip as the footage downloads rather than having to wait for the clip to download in its entirety beforehand.
Target Audience
The target audience is the market in which advertisers wish to sell their product or service to. Target markets are defined in terms of demographics, psychographics, purchase behavior, media or product usage.
Text Ad
A text ad is a concise, action-oriented copy describing the product or service that is being advertised. The text ad appears alongside natural search results and links to a specified web page.
Title Tag (or Page Title)
The text displayed at the very top of the browser window. Although inconspicuous to the user, the title tag is the most important bit of text on a web page as far as the search engines are concerned. Search engines not only assign the words in the title tag more weight, they also typically display the title tag in the search results, making the title tag an important potential call-to-action as well. Thus, the wording of each page's title tag should be thought through carefully.
Trackback
A notification that someone has linked to a document on your site. This enables authors to keep track of who is linking to, or referring to their articles.
Tracking
Online advertising opens the opportunity to track audience response throughout the life of a campaign. Tracking and reporting tools can help you learn as you go, so you can refine your ad creative, placement options, and spending levels if you're not seeing the results you expect. The publisher of your ads typically will provide reports on ad impressions and clickthrough. For additional analysis of your traffic and actual customer conversion rates, you'll need to build tracking mechanisms into your website.
Traffic Estimator
Google's AdWords Traffic Estimator is a tool that provides search volume, average cost-per-click, and position estimates for search advertising in Google's search results and content network. It can be used to predict advertising performance before starting a campaign.
Unique Visitors
Unique visitors are a count of individual users who have accessed your web site.
Universe
The term 'universe' in the world of advertising means the total population of the target audience.
Usability
How user friendly a web site is – the ease of use that a user can perform an action or task through the user interface.
URL Rewrite
A technique used to help make website URLs more user and search engine friendly.
User Generated Content (USG)
User-generated-content is content created and published by end-users online. USG is comprised of videos, podcasts, posts on discussion groups, blogs, wikis, and social media sites. USG allows for a wider content provider base and the chance for all users to share their opinions online.
User Session
An instance of an Internet user accessing your web site for a length of time, then leaving. During a user session any number of pages may be accessed. A user session is considered finished once an arbitrarily chosen period of inactivity – typically 30 minutes – is exceeded.
Visibility
How well-placed your web site is in the search engines for relevant keyword searches.
Web Crawler (or Robot or Spider)
A program or automated script which browses the World Wide Web in a methodical, automated manner.
Web Traffic
Web traffic is the amount of data sent and received by visitors to a web site determined by the number of visitors and the number of pages they visit. Sites monitor the incoming and outgoing traffic to see which parts or pages of their site are popular and if there are any apparent trends, such as one specific page being viewed mostly by people in a particular country. There are many ways to monitor this traffic and the gathered data is used to help structure sites, highlight security problems or indicate a potential lack of bandwidth.
White Hat SEO
Ethical SEO approved by Google.
Ok, so there you have it, Ed's Online Glossary. Don't never say I never give you Bleat followers anything! Triple negative. Ciao until next time me hearties!
Steff @ Ed.