At the end of 2014, Ed got a call from in-home childcare provider PORSE. Alongside a brand refresh by Band, and website design and development by Flavour, Ed was contracted to take supplied draft copy and whip it into shape. Essentially, Ed's job was to inject a consistent tone-of-voice into the copy to properly reflect the revised PORSE brand attributes, carry out a full sub-edit and proofread, while inserting keywords for SEO.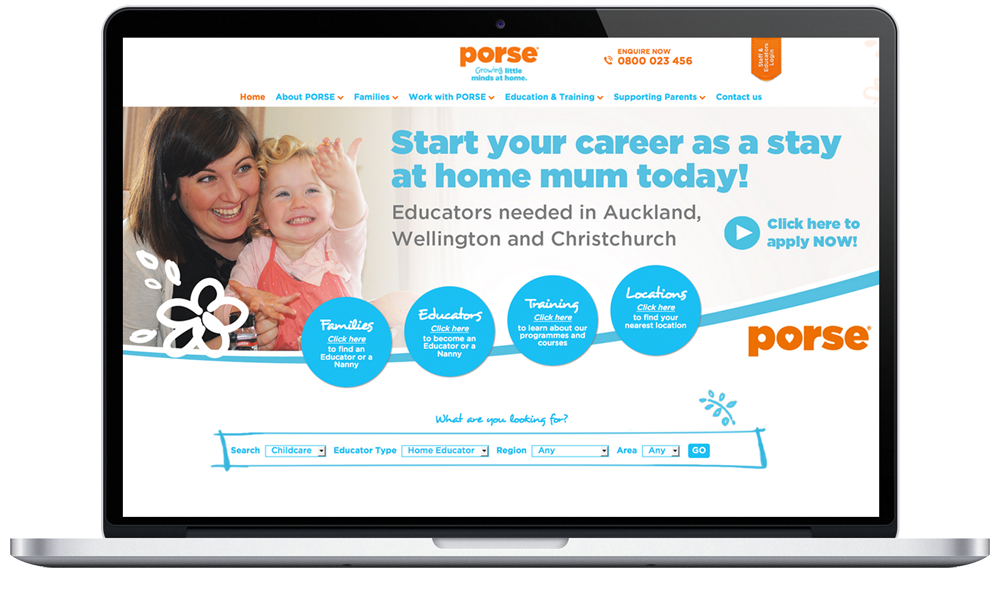 PORSE In-Home Childcare

For over 20 years PORSE has been involved in the researching, training and development of in-home education and care of infants. PORSE believes children need safe, stimulating, natural environments, and close, secure relationships to support early brain development for life-long learning and brighter futures.
Nurturing Hearts & Minds
PORSE aims to ensure our children get the absolute best start in life for a better future for New Zealand. The PORSE vision is to expand the hearts, minds and well-being of a nation through nurturing childcare in-home, to have all New Zealanders schooled in the nurturing and educating of children in their care.
Ed's Goals & Objectives

In a nutshell, Ed's core goals in working up the new PORSE website copywriting were to ensure:
The copy met current best practice web writing guidelines.
Keywords were used appropriately throughout for in-site SEO.
Cohesiveness (arranged well) and coherence (makes sense) were maintained, and cadence (reading rhythm) was injected.
A thorough grammar, punctuation and spelling check was carried out.
The TOV (tone-of-voice) used across the copy was consistent, moving, endearing, emotive and engaging.
Armed with the PORSE-drafted copy, a comprehensive sitemap, brand refresh document and website visuals, Ed went about trimming back the writing to only the essentials, for succinct reading. By adding appropriate headings, sub headings and in-body keywords the copy became optimised for Google, while taking on a new form to make it easier for future site visitors to navigate to relevant content on any given page of the site.
However, Ed's ultimate objective was to write the website copy in such a way that it took the new PORSE propositions and targeted parents and caregivers for the in-home childcare of their children, along with educators and nannies for both employment and training.
The Go-Live

The end result is a website that does everything it was intended to do. With a refreshed brand look 'n' feel in place, a fully functional and responsive website, and copy that expresses the PORSE mantra, target audiences are now being targeted and met online the way they should be. Just visit www.porse.co.nz to see for yourself!