A case study by Ester du Fresne

Ed undertook a capacious and engaging marketing campaign for the Tremains Affordable Art Exhibition (TAAE), which was held at Napier Girls' High School (NGHS) Friday 9 – Sunday 11 March 2018.
From website development to social media, signage and print collateral distribution to PR and communications: Ed pulled out all the stops promoting this significant community event.
The Tremains Affordable Art Exhibition
The TAAE is an exciting annual fundraising event for NGHS. It features over 300 artworks by more than 80 professional artists from around New Zealand. With every piece priced at $1000 or less, it provides an opportunity for art lovers in the Hawke's Bay community to start a new art collection or add to an existing one.
Since its inception in 2015, the event has raised over $75,000 for the school. Ed's objective in 2018 was to market the pants off the TAAE, to see that figure rocket.
–––––––
"Other marketing companies have relied on us more – I haven't had to work as hard with Stefan because he's so organised. His creative skills are pretty amazing as well. I would absolutely, without a doubt recommend Ed."
Nicci Sewell, Admin Manager @ Napier Girls' High School
–––––––
What's the Fundraiser for?
For NGHS, the TAAE is an extremely valuable fundraiser. Money raised is used to fund initiatives to support students to make well-informed health and well-being choices, such as self-defence classes and speaker evenings about important teenage health and self-care topics like resilience and leadership.
The more funds raised, the more initiatives can be implemented. And there's another important benefit: the NGHS students involved in the exhibition itself gain real-world skills related to running an event, time and task management, and specific skills such as managing website content, rolling out social media campaigns and how to distribute print collateral so it appears in front of target audiences.
TAAE Sponsorship
Hawke's Bay's leading real estate company Tremains and local real estate agent Sarah Pinckney-Welch recently came on-board as joint platinum naming sponsors for the TAAE for the next three years (at least).
Tremains are passionate about supporting events that benefit the local community and having daughters attend the school in the past and present, the partnership seemed the perfect fit of shared values and principles.
Gold sponsors include: Gemco, Somerset Smith Partners, BDO Hawke's Bay, No.9 Marketing & Design and Printing.com. Silver sponsors are Sacred Hill and Bennett & Pearson Optometrists. Event partners are Ed, Sitetools, Eventfinda and Branded.
2018 Marketing Plan
The committee of parents and students that organise the TAAE resolved that for 2018, a more comprehensive marketing push to drive ticket, exhibition and gallery sales would improve event results and increase the funds raised. And they decided to utilise Ed's expertise to do just that.
The hero of this story – Ed – is a Hawke's Bay-based brand, marketing and communications agency. Ed provides the full suite of marketing services to businesses and organisations of all shapes and sizes. And the man behind Ed, Stefan Olsen, also runs all marketing and communications for the TAAE.
–––––––
"Our goal was to make the 2018 exhibition bigger and better, with more artists involved, more art on offer and in the coming years we'll be adding many other exciting additions to the event."
Stefan Olsen, Creative Director @ Ed
–––––––
The Solution
A top-down approach was adopted to develop and direct a compelling and effective marketing strategy. After considering the committee's goals and objectives, Ed deployed tailored marketing tactics for digital and traditional channels to capitalise on promotional opportunities for the event.
Ed has also become the brand guardian and central ambassador for the TAAE, ensuring all collateral is created, applied and delivered in a consistent, memorable and persuasive manner for maximum target audience uptake.
Communications Strategy
With enhanced messaging and reworked branding, Ed weighed up promotional tactics and developed a comprehensive strategy for the timing, placement, format and acute targeting of audiences in all event communications.
Throughout the execution of the strategy, Ed ensured continuity in visual and key messaging; vigorously spreading the TAAE's ethos and spirit. At all stages, Stefan has also worked hard to keep all the players informed.
–––––––
"Stefan's been completely on top of communications – keeping the audience completely engaged on social media, liaising with stakeholders, and keeping NGHS and the wider community in the loop at all times."
Nicci Sewell, Admin Manager @ Napier Girls' High School

–––––––
Website Design & Development
After evaluating the TAAE committee's suggestions and expectations, Ed designed and managed the development of a new website – assessing five local website developers against their ability to meet specifications for design, functionality, user experience and ultimately results.
Ed took charge of designing the new site and writing the scope, briefing the developer, managing the build, then streamlining and troubleshooting post go-live. The final product is an intuitive, clean site with clear brand messaging and navigation. Ed manages ongoing content updates to the new site, including adding artist profiles and examples of their work.
Collateral Design & Distribution
While Ed developed copy, supplied images and logos, and specified adjustments to existing collateral, No9 Marketing & Design assisted with purpose-designed collateral to perform in print.
Once materials had been printed, Ed arranged distribution across multiple channels by utlising NGHS students and various contacts within the Hawke's Bay event and marketing sectors. Ed also scouted and obtained access to an array of stand-out sites to install outdoor signs and posters, negotiating with council and a fleet of landowners for access and permissions.
–––––––
"We've worked on the TAAE for four years but working with Stefan – having someone from outside the studio come in and work with us – has been so valuable. He's helped drive direction so we can focus on what we do best."
Melissa Holyoake, Creative Studio Manager @ No9 Marketing & Design
–––––––
–––––––
Digital Media Strategy
Ed worked with NGHS students developing content then scheduling and publishing frequent posts in a comprehensive TAAE social media campaign on Facebook and Instagram.
Alongside student reps Ed managed social media activity calendars for the artists, sponsors, Pop-Up Gallery and raffle, and also assigned tasks to prefects and other participating NGHS students, and committee members.
Local and nationwide exposure was ensured on online event hotspots such as Eventfinda, the Hawke's Bay Tourism website, and the Hawke's Bay business site Great Things Grow Here. And of course, the dedicated TAAE website features artists, event details and many other updates about the event.
–––––––
"Stefan has been liaising with me throughout to get collateral to students for distribution, physical ticketing, and a whole raft of other tasks. He's been incredible. He's super efficient, organised and easy to work with. And you definitely can't miss the signage around town!"
Nicci Sewell, Admin Manager @ Napier Girls' High School

–––––––
PR & Ticketing
As a true public relations ambassador for the TAAE, Ed arranged and enthusiastically undertook promotions with newspaper and radio, and targeted communications with previous buyers, staff, parents, local businesses and sponsors.
Ed has also been a wizard with ticketing: managing the Eventfinda listing, integrating ticket purchasing with the website, manual ticketing and issuing complimentary tickets.
–––––––
"The ideal result for us is a sold out open night and a lot of people through over the weekend, which will benefit the school with the funds raised. I'm very confident Stefan will help us achieve this."
Nicci Sewell, Admin Manager @ Napier Girls' High School

–––––––
Ed Gets Results
From planning, coordinating and managing communications, distributing collateral, writing and disseminating PR and media, to managing social media and ticketing, assigning tasks and administering the advertising budget – Ed was on top of it all.
Two weeks out from the event, gala opening night tickets officially sold out. And the exhibition over the weekend 9-11 March was a huge success, breaking all past records to raise over $32,000 for health and well-being initiatives at Napier Girls' High School.
So, if you're looking for a comprehensive marketing plan and the means to deliver it with measurable results, call Ed for a chat.
–––––––

"I've really appreciated Stefan's approach. He's extremely dedicated and passionate. He's gone over and above what we've experienced in the past."
Carolyn Neville, TAAE Committee Member (Pop-Up Gallery & Sponsorship)

–––––––
Ed is proud to be a key partner of the Tremains Affordable Art Exhibition providing all marketing, advertising and communications services including:
Communications Strategy
Website Design & Development
Social Media Management
Print Collateral & Distribution
Media Relations & Press Releases
Ticketing Sales Management
To talk to Ed about your brand and communications please get in touch today:
–––––––

Ester du Fresne is a copywriter, editor and information designer based in Hawke's Bay. She crafts blogs, marketing material, newsletters, web copy and reports that get the right kind of attention for your brand. For assistance with any content writing, communications or editing jobs – big or small – hit her up at wordsbydesignnz@gmail.com or check her out on Facebook
–––––––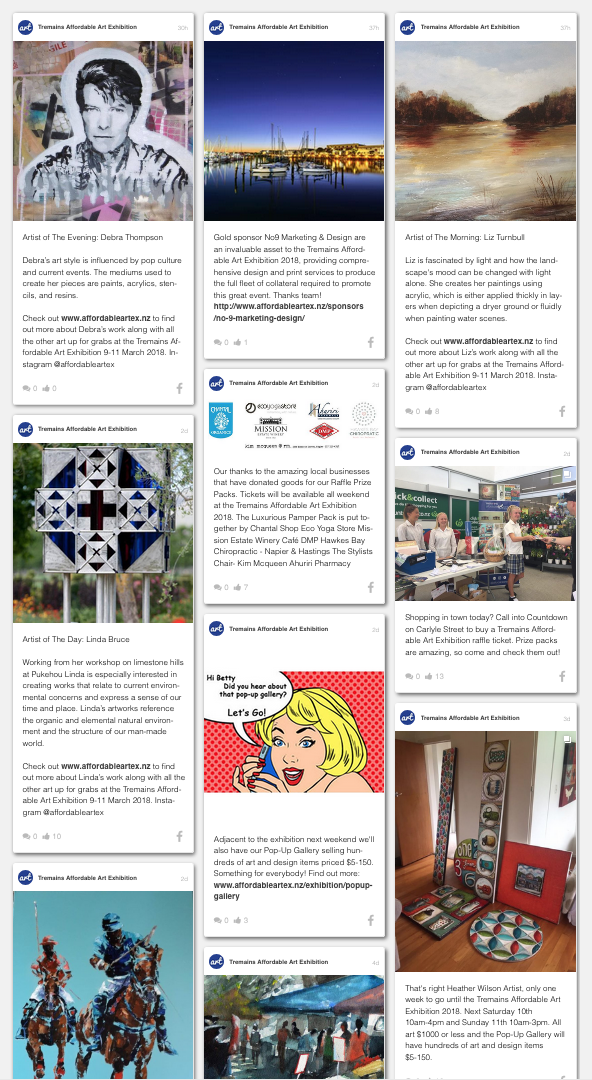 –––––––